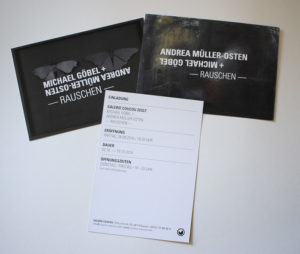 RAUSCHEN
Michael Göbel | Andrea Müller-Osten
Eröffnung: Freitag, 28. September 2018, 19:30 Uhr
2. bis 19. Oktober 2018 | Dienstags bis Freitags | 16:00 bis 20:00 Uhr (und nach Vereinbarung)
Sa 29. + So 30. 9. zum "kunst+kultur-rundgang vorderer westen" von 13:00 bis 19:00 geöffnet.
GALERIE COUCOU | Elfbuchenstr. 20 | 34119 Kassel | 0170.9699897
…der Pressetext:
RAUSCHEN
Die Galerie Coucou zeigt neue Werke von Andrea Müller-Osten und Michael Göbel.
In dieser Doppelausstellung treffen zwei scheinbar sehr unterschiedliche künstlerische Positionen aufeinander. Die kleinformatige Malerei von Andrea Müller-Osten überzeugt durch ihre nüchterne Lyrik und bewegt sich stets an der Grenze zwischen Abstraktion und Gegenständlichkeit. Ihre menschenleeren Landschaften wirken entrückt, strahlen eine unaufgeregte und zutiefst menschliche Emotionalität aus. Der konzentrierte Blick und die Rückbesinnung auf das Wesentliche sind hierbei mehr als nur malerisches Können. Während Andrea Müller-Osten das Feld der klassischen Ölmalerei selten verlässt, ist Michael Göbel kaum einem eindeutigen künstlerischen Medium zuzuordnen. Mittels Fotografie, Zeichnung und Skulptur baut er seine komplexen Themenkonzepte aus und ist dennoch kein Fotograf, Zeichner oder Bildhauer im klassischen Sinne. Ob in einzelnen Objekten oder vielteiligen Installationen, Michael Göbel schafft präzise Abbildungen der Wirklichkeit. Die meist monochromen Oberflächen scheinen jedoch mehr zu verbergen als zu offenbaren. Wer in seinen Realitäts-Kopien die bloße Vereinfachung sucht, wird sie nicht finden. Sein Werk lässt sich erst über die inhaltliche Verschränkung entschlüsseln.
Zum ersten Mal stehen sich die Malerei von Andrea Müller-Osten und die Installationen von Michael Göbel gegenüber. Geprägt von unterschiedlichen künstlerischen Generationen und mit verschiedenen Ausdrucksmitteln, erzeugen sie mit "RAUSCHEN" einen gemeinsamen Klang. Mal nachdenklich, mal ironisch sind die Modulationen, wenn es um Mensch und Natur, oder die Natur des Menschen geht. Mehrwert durch Reduktion, Orte und Ideen sind gemeinsame Themen. Dabei sind ihre Werke Medium und Signalstörung zugleich, Sender und Empfänger sind ebenso gleichermaßen daran beteiligt. Ihre unhörbare und dennoch laute Konversation lädt zum mitrauschen ein.
Michael Göbel, geboren 1973 in Niedersachsen, hat von 1995 bis 2002 sein Studium der Bildende Kunst in Kassel u. a. bei Urs Lüthi absolviert. Nach zahlreichen Studien- und Stipendienaufenthalten im In- und Ausland kehrte er von 2014 bis 2016 als Dozent wieder an die Kunsthochschule Kassel zurück.
Andrea Müller-Osten, Jahrgang 1938, studierte Freie Kunst in Stuttgart, an der Städelschule in Frankfurt und an der Slade School of Fine Art in London. Sie hat an Goldsmiths' College – University of London, Coventry College of Art und Canterbury College of Art unterrichtet. Seit 1972 lebt und arbeitet Sie in Kassel.
Seit ihrer Gründung im Jahr 2008 hat sich die Galerie Coucou zu einer der führenden Adressen im Kulturleben der Stadt Kassel entwickelt und zeigt in Gruppen- und Einzelausstellungen aktuelle künstlerische Positionen von jungen genauso wie von etablierten Künstlern. Dafür wurde die Galerie Coucou 2012 mit dem Kulturförderpreis der Stadt Kassel geehrt. Das zehnjährige Bestehen der Galerie wird das ganze Jahr lang mit einer Reihe anspruchsvoller Ausstellungen gefeiert. Ein besonderer Schwerpunk im Programm sind KünstlerInnen, die eine starke Beziehung zu Kassel haben.